Hand Sanitiser Stations for your Business Premises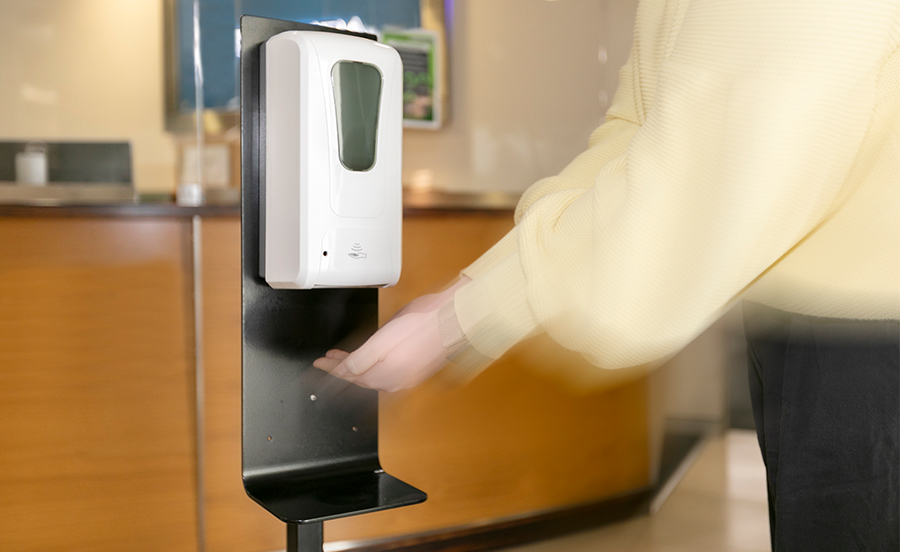 March 24, 2020
Hand Sanitiser Stations are becoming the norm for indoor premises in response to the current worldwide pandemic. There is an increasing demand for the placement of these stations in prominent positions for all high traffic areas.
Although regular hand washing is preferred over regular hand sanitiser use, as advised by the Australian Government Department of Health, hand sanitiser can be used when hand washing facilities are not readily available.
Stoddart can supply hand sanitiser stands, dispensers, and Sanipure hand sanitiser refills for your venue's hygiene requirements.
Hand Sanitiser Stands and Dispensers
Stoddart has a range of hand sanitiser station equipment to fulfill your venue's hygiene requirements.
The HSS.01 Hand Sanitiser Stand is a hard wearing stand with an anti-tip base. It features universal fixing holes for attaching various hand sanitiser dispensers, including the Automatic dispenser, the Standard Security and High Security dispensers.
All 3 hand sanitiser dispensers can be refilled with Sanipure bulk hand sanitiser refills.
The HSS.02 Bottle Holder Stand is ideal for holding 500mL hand sanitiser bottles, including the Sanipure 500mL Hand Sanitiser Gel.
Purchase Stoddart Hand Sanitiser Stands and Dispensers from Stoddart.shop
Sanipure Hand Sanitiser
The Sanipure hand sanitiser range - Liquid 80%, Gel 80% and Alcohol Free - provides a number of spray, pump and bulk refill options for your business needs. The Liquid Alcohol sanitiser base formulation is in accordance with the recommended hand rub formulation of the World Health Organisation.
Sanipure Business Start-Up Packs are also available, with a mix of pumps, sprays and 5L liquid and gel refill bottles.
Purchase Sanipure hand sanitiser packs and refills from Stoddart.shop
Contact Stoddart on 1300 79 1954 or email info@stoddart.com.au to find out how we can assist with your hand sanitiser station needs.